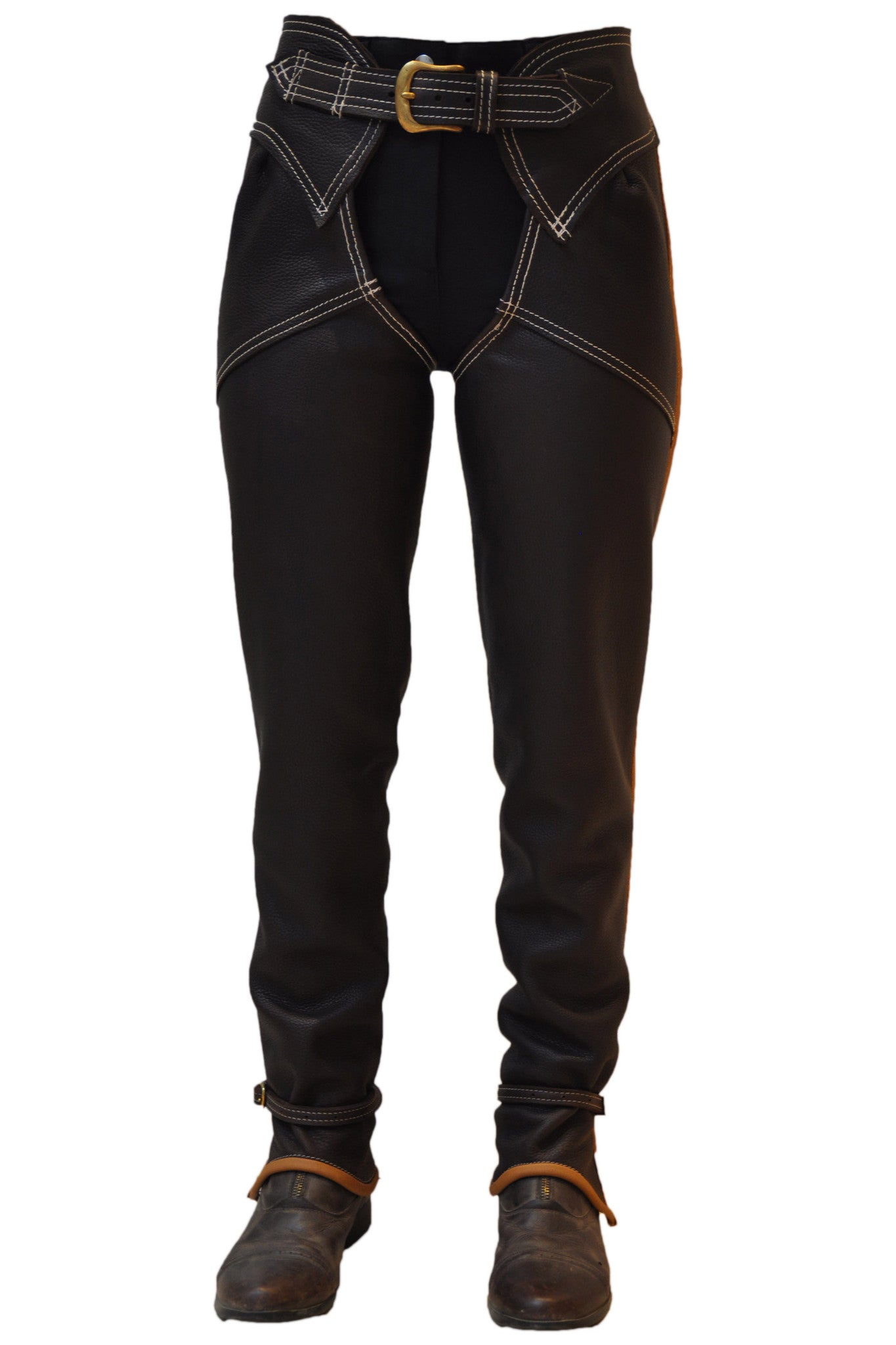 Chaps - Original Full Length Leather Chaps - Long Leg
Introducing the Original 'Skin Tight' Equino Chaps, meticulously handcrafted with premium British leather sourced from the finest tanneries. These chaps exude exceptional quality, featuring double stitching and an unwavering attention to detail.
Trusted by renowned professional riders worldwide, including Laura Renwick, Michael Whitaker, and William Fox-Pitt, our chaps deliver unparalleled performance and style.
Choose from an array of classic base colors, including Chocolate, Tan, Black, and Navy, while our piping options extend to Chocolate, Tan, Black, Navy, Raspberry, and Cream. The standard cream stitching beautifully complements the overall design.
Designed with precision, our chaps come in three sizes: S with a 21" thigh and 13.5" calf, M with a 23" thigh and 14.5" calf, and L with a 25" thigh and 15.5" calf.
For those with longer legs, our long leg version measures 32".
To ensure a perfect fit, kindly provide your exact measurements in the notes section during the ordering process. Handmade in Britain, please allow 2-3 weeks for delivery.
To guarantee Christmas delivery orders must be received by 30th November.  
THE NOT SO 'SMALL PRINT'
Please note that our chaps are individually crafted, resulting in a unique pair for every customer. While we gladly make adjustments to achieve the ideal fit, please understand that no two pairs will be exactly alike.
For additional customization options, our personal service allows for bespoke touches, which may incur an extra charge. Simply leave a note with your contact number in the comments box during checkout or call +44(0) 7979 288 130 within 12 hours after placing your order to discuss bespoke options.
For made-to-measure chaps, tailored specifically to your dimensions, please call +44(0) 7979 288 130 or email contact@equinochaps.com. The cost for made-to-measure chaps is £295 plus postage and packaging.
IMPORTANT - Returns / Alterations: We operate a 30-day return policy. Kindly note that as chaps are made from real leather, the material may undergo slight shape changes over time. If, after the 30-day period, you wish to make your chaps smaller, we offer alteration services for a fee of £70. Please contact us to arrange alterations. Please note that we are unable to make chaps larger after this 30-day period.